LEGAL SOLUTIONS AT VAN HORN LAW GROUP
Our South Florida Board Certified Bankruptcy Attorneys Can Help You Find The Best Legal Solution For Your Situation
At Van Horn Law Group, we offer practical strategies to decrease your stress and help you get back on your feet fast, no matter what you're going through. Our Broward County bankruptcy attorneys in Fort Lauderdale, Miami-Dade County, and Palm Beach County are committed to helping you solve your legal problems and file for bankruptcy with six convenient locations, including five satellite offices throughout South Florida.
Van Horn Law Group offers a different approach to working with clients and helping them reach their goals. We are committed to helping guide our clients through solutions to their financial issues, including debt relief, bankruptcy, and the foreclosure process, no matter how complicated the case is. Our Broward County bankruptcy attorneys in Fort Lauderdale, Miami-Dade and Palm Beach thrive where others fail.
Our bankruptcy attorneys in Miami Dade, Broward and Palm Beach helps make a difference in our clients' lives, because we are able to succeed where others are unwilling or unable to handle the problem at hand. We are also dedicated to serving the communities where we live and work. We offer pro bono work, donate our time, offer financial support, and help advance the causes of organizations and individuals who seek to improve our communities.
Chapter 7 Bankruptcy Filings

Chapter 11 Bankruptcy Filings

Chapter 13 Bankruptcy Filings

Total Bankruptcy Matters

Discharge Rate
Over 100 Awards & Recognitions
The Debt Life
Check out Chad Van Horn's 2020 best-selling book, The Debt Life, a collection of true stories that display proven techniques to reduce the burden and stress caused by debt. This incredible book landed on Amazon's bestseller list within a mere 24 hours of going on sale. Van Horn discusses practical solutions to help businesses and individuals find their way beyond "the debt life" into financial stability and better peace of mind.
The Debt Life covers a wide range of financial issues, including gambling, credit card debt, unexpected medical expenses, shopaholism, divorce, student loans, and real estate flipping. Van Horn also explains tips and techniques to get out of debt, including negotiation, budget trimming, consolidation, debt management, and bankruptcy options.
Get Free Resources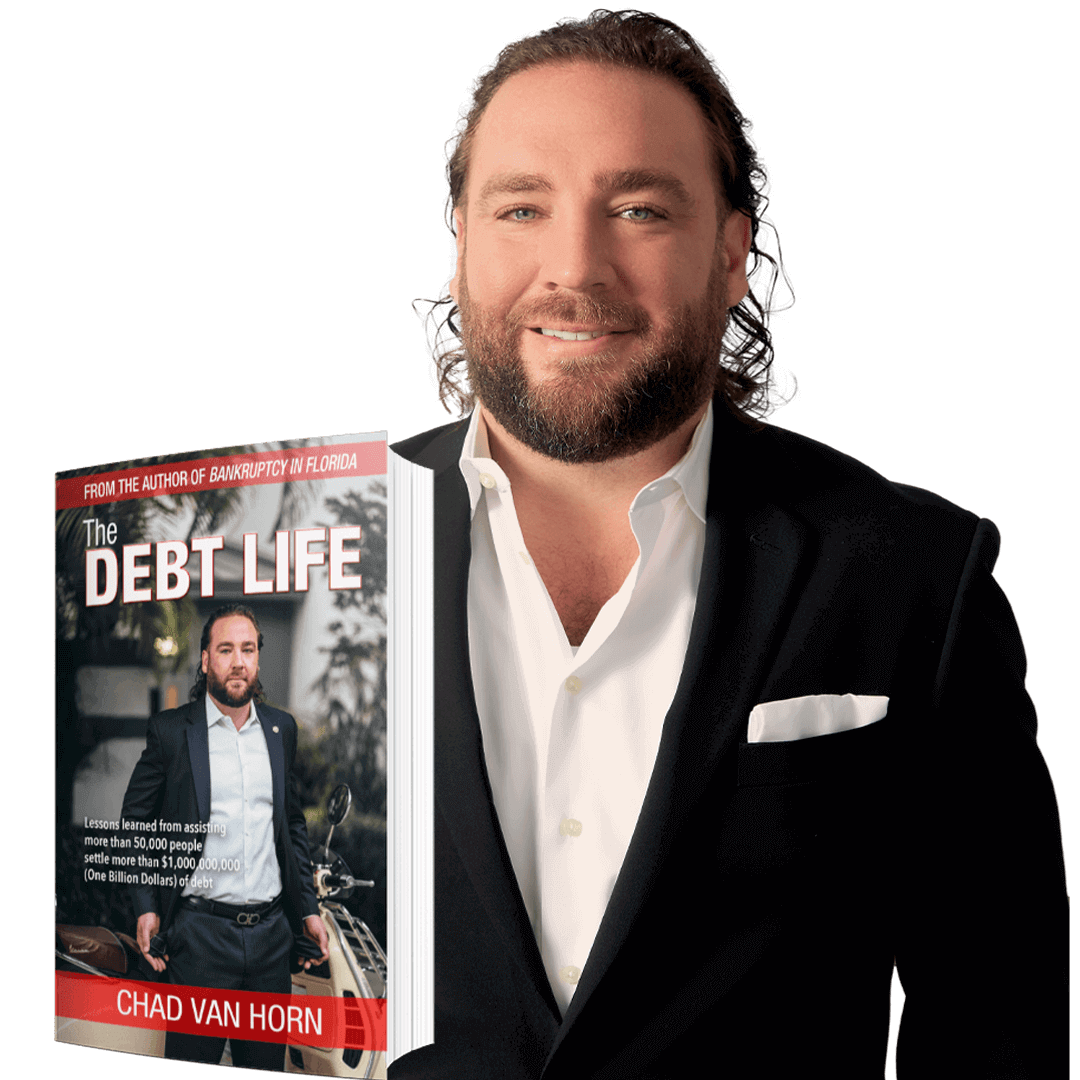 What Makes Van Horn Law Group Different
Dedication. Experience. Results. No matter how complex the issue, our student loan lawyers, bankruptcy attorney in Fort Lauderdale, bankruptcy attorney in Miami Dade and bankruptcy attorney in Palm Beach attorneys,use their expert legal knowledge and techniques to achieve the best possible outcome for you or your business.
Van Horn Law Group is the largest bankruptcy firm in Broward County based on cases filed over the last 12 months (www.pacer.gov) and one of the top bankruptcy filers in the country. Our firm also has ranked among Inc. magazine's 5,000 fastest-growing, privately held companies in the U.S. in 2019 and 2020.
Meet Our South Florida Lawyers and Team
The Van Horn Law Group team includes the best student loan lawyers, bankruptcy attorney in Fort Lauderdale, bankruptcy attorney in Miami Dade, and Palm Beach who are multilingual in English, Spanish and Creole. Our attorneys in Fort Lauderdale, West Palm Beach, Miramar, Doral, North Miami and Miami Lakes can help you gain freedom from debt. Take a moment and get to know us better. Our team has years of expertise and is dedicated to offering legal solutions.
Frequently Asked Questions
If you are struggling with your finances, then bankruptcy might be the way to go. We recommend working with our bankruptcy attorney in Miami Dade, Broward and Palm Beach to learn more about bankruptcy and other debt solution options and determine what is the right option for you. Here are some answers to our most commonly asked questions to help you make better and more informed decisions about your legal case.
Current News on Bankruptcy, Student Loans, Debt Relief and More