FIND THE INFORMATION YOU NEED, ALL IN ONE CONVENIENT LOCATION
We are continuing our legacy of providing valuable information with NEW books.
At the Van Horn Law Group, we have been providing valuable information on bankruptcy and various other legal topics through free and affordable eBooks for years now. Whatever you are searching for, we likely have text covering that topic – created and curated by an experienced bankruptcy attorney and his team of legal pros. We want you to feel comfortable with the choices you make under our guidance and the information you receive from our South Florida law group, so we welcome your questions, concerns, and feedback to help us create future books and other projects.
LEARN MORE WITH OUR NEW BANKRUPTCY BOOKS
What do Chad Van Horn and his team know about debt and bankruptcy? Just ask the people for whom they have helped settle over a BILLION dollars of total debt. That is precisely the real-world experience that went into writing Chad's newest book, "The Debt Life" – now available on Amazon.
"The Debt Life" is available for the low price of $9.95. However, in keeping with their tradition of making their helpful bankruptcy books available to as many people as possible, it is also available to read for FREE through the Kindle Unlimited program. In other words, even those who are on a tight budget can access this incredibly valuable resource, making it perfect for those who are considering bankruptcy or otherwise financially struggling.
GET BOOK ON AMAZON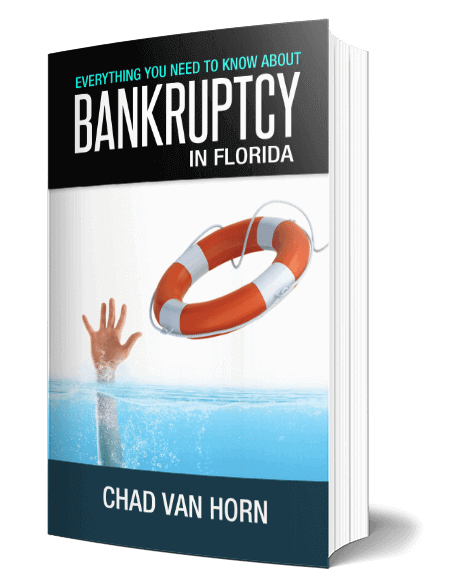 WRITTEN BY A REAL BANKRUPTCY ATTORNEY
"The Debt Life" is not the only book that Van Horn offers to clients and prospective clients. If you have an extremely limited budget – and no access to the Kindle Unlimited program – you can still access great text written by Van Horn and his legal team.
The eBook, "Everything You Need to Know about Bankruptcy in Florida" is available completely free for a limited time. Just submit your email address to receive the book directly to your inbox and start reading now. It may be one of the most valuable bankruptcy books you ever start!
GET FREE BOOK
LEARN EVEN MORE WITH THESE RESOURCES
Find more valuable information with these legal resources curated by our law firm.
Current News on Bankruptcy, Student Loans, Debt Relief and More